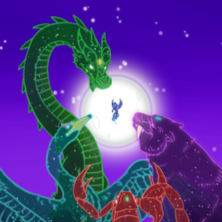 Cosmas-the-Explorer
Explorer in Training
Aplejack and her family are Yankee farmers from Massachusetts (insert horse pun for real world places).

Granny Smith helped dragons escape their overlords in the Underground Railroad and her husband fought against those Johnny Rebs [working](https://m.youtube.com/watch?v=gvjOG5gboFU) for the Plantation Folks influenced by neo Norman unicorn aristocrats instead of the hard working small farmers of the north.

Being Yankees and descendants of the Puritans looking for a simpler less elaborate way to revere Celestia, they are practical and down to earth. They also value a good education and a value in benfitting the community for the greater good. Most of all they believe in the "Earth Pony Work Ethic" and belive in the goodness of buisness.

They firmly hate the aristocratic tendencies of the over extravagent Unicorns who hunt Earth Ponies down with their inquisition and belive that buisness is for the lowly and the middle class and lower are trash.

Man I guess this is what happens when you hear too much Civil War music.