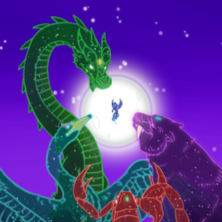 Cosmas-the-Explorer
Explorer in Training
Tree Hugger is considered a patron saint of sorts for Earth Ponies. She was one of the ponies who mastered Plantbending that would be popular in Sunny's time. Her manuals (actually from a different writer who had to interpret her enigmatic drug induced mutterings) became valuble for Eaeth Ponies and Sunny to learn about the potential of earth ponies.

Sadly no one cares too much about that writer even though they had to go through the effort of interpretation.

[@Phoenixflambe](/forums/pony/topics/crazy-headcanons?post_id=5269833#post_5269833)
Yes but I was thinking of if FIM were set on the British Isles. Whereas in the original FIM it was set in a world with Americans/Canadian like ponies.