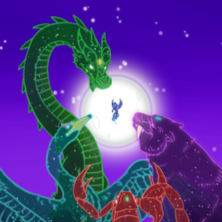 Cosmas-the-Explorer
Explorer in Training
[@Phoenixflambe](/forums/pony/topics/mlp-g5-discussion-and-speculation-thread?post_id=5276735#post_5276735)
He was a famous reviewer of cartoons and to a lesser extent Friendship is Magic. He was probably the biggest animation critic back in like 2013 to 2015. He's a bit more obscure nowadays but he's still doing reviews.

He's most famous for his Animated Atrocities, where he reviews bad cartoons most famously Teen Titans Go and in this case modern Spongebob.

Often in the episodes he criticizes, Squidward is made to suffer even at no fault of his own mostly caused by flanderized Spongebob and Patricks foolishness, thus he calls these episodes Squidward Torture Porn.

These reviews while popular were also criticized for being very vitriolic and angry. Many of them were very ranty. Sometimes he even stated how the new writers deserved to be fired. He has since apologized and tried to be more calm. Although, he can still be a little melodramatic and unstable sometimes.

On the bright side, I do admire his sheer love for the art of animation. He even has Admirable Animations for the cartoons he finds well made and beautiful.