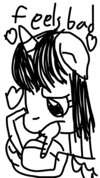 🂾𝕃𝕚𝕟𝕔𝕠𝕝𝕟𝔹𝕣𝕖𝕨𝕤𝕥𝕖𝕣𝔽𝕒𝕟🂽
Goodbye guys ;)
Hopefully I'm not duplicating a thread game done already (and that this is in the right forum lol). Got the idea from reading the comments of
>>2247858
.
Should be pretty straightforward? 😁 Show us your beautiful horns and wings!
Picture duplicates acceptable! Canon and OCs acceptable too! 🥰
Share using the >>imagenumberp format! 🥳
For example, the above image:
Not a fan of NSFW, but if you share a NSFW image please spoil it as >>imagenumber
Update 1 day later, 4/25/23:
If you're sharing WebMs, use the t suffix instead of p. P doesn't show the entire picture in post :o :)
Have fun!