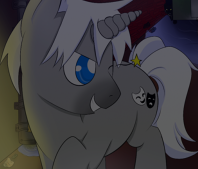 Charade
I mean I get that she was a villain. But she was just as much a villain as any other villain but as far as I can tell no one else gets as much hate. The 'Abuse' tags for the other two 'Legion of doom' members have far less images and Tirek's has less then 100, despite having arguably done the MOST irreparable (At least not instantly reparable) damage. He flattened buildings and incinerated wide swafts of land and forest, killing who knows HOW many, and leaving more homeless. Yet his 'abuse' tag has not even 50 images?

Now obviously people can draw whatever they want, I'm just confused as to why Cozy in particular is so hated. She really doesn't stick out to me as a particularly egregious villain. Or am I missing the point? Is it something unrelated to her role as a final villain? What makes Cozy stand out from say Chancellor neighsay? Or Starlight Glimmer who caused years and years worth of suffering over and over and over again (Sure it was created and erased in an instant to us, the viewer, but in-universe thousands of ponies had horrible lives for however long the time skip was. Over and over.)

No I have a guess... Is it because Cozy's method of villainy is more realistic and more relatable? Like... its easier to hate a villain that uses manipulation and false kindness than to hate one that uses fantastical powers or mind control and brain washing? Because manipulation and false kindness exist in the same capacity in the real world does that make people hate her more despite the more destructive and numerous evil actions of other villains?