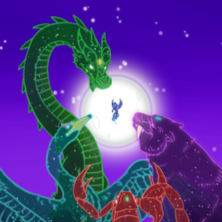 Cosmas-the-Explorer
Explorer in Training
Sunny wants Zipp to socialize with her sister more. But Zipp refuses too. So Sunny casts a spell to make Zipp be with her sister.

But Zipp gets frustrated at her pridacament.

I think I like the idea of Sunny being an extrovert who tries to get everybody to do stuff together and doesn't quite understand introverts like Zipp and how they need their alone time. And Zipp needs to know how to balance between her own time and time with others.