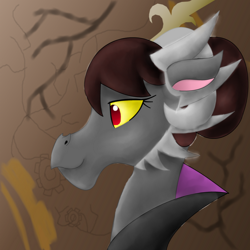 Mr100dragon100
reformation is the best
this is a rough draft of page 1, there could be lots of mistakes and weird stuff so let me show you the story and let me point out things i wanted to convey

It was a cold November night, Edward hyde and his friends had already left the pub, with their bags of new cloaths
hanging on their sides, they were smiling and teasing Edward light-heartedly for his encounter with a prostitute mare, Dracula shook his head at the ponies at their playful behaviour, but secretly laughed as well


"oh~ she likes you," said griffin.

Edward blushed "now, i don't know about that" Said Edward.

"come on, did you said she wanted to see you again?" asked Adam.

Edward looked down "yes she did" Edward said in a slightly quiet voice

"Well what happened?" said Thomas


"Well," said Edward "it went like this"

Edward thinks back and explains his encounter with the mare at the pub, and the table where he had his conversation with the unicorn mare.


"i was a little nervious yet i did managed to talk to her, her name was elizabeth, she is 44 though she looks like she's in her 20s, long dark hair and a white coat with a small birthmark on her right cheek"


we continued talking for a while, though once it was time for us to leave, i told her i had to go

but then she said.

"i had a great time, i would like to see you again."

i was surprised, i told her that i would like to see her again too


we said our goodbyes and we all left.

"So how was she?" said Erik.

"she was wonderful," said Edward

"i'm glad you had a good time," said Matthew


"yes, me too," said Edward



They all walked back home, once there they all went back to their rooms to set up their cloaths


edward turned on a lamp at a desk still wondering and thinking over his time with Elizabeth, sitting in bed with his bags next to him


"Edward please don't feel doubt," said Jekyll

jekyll, though sharing the same body as hyde saw how doubtful hyde was and wanted to reassure him


"how can i not feel doubt, i don't want what happend to me long ago when i tried to find somepony," said Edward sadly

"But edward, this is a diffrent mare, she won't be like that one, elizabeth wants to see you again," said henry

"she said it so kindly, not in a seducttive way, do you think there could be a chance?" said Edward

"i'm sure there is edward," said Jekyll


Edward thought about the time he had with her, and his confidence grew.

"i do want to see her again, maybe this will go well," said Edward

"i'm sure it will," said Jekyll reassuring hyde

edward got up and tried to find a place to put his and henry's new cloaths as they don't have a closet or drawer to put cloaths in

then went to spend the rest of the night to continue helping his friends fix the house


end page 1


things i wanted to convey

.i wanted to show Edward being shy but i want to find words that show that through next not just by saying he's shy but with a word that shows the actions instead of telling, you know to make it more interesting

.i want to remove any unnecessary exposition but yet i want to explain what Elizabeth looks like and what happened to hyde in his previous relationship since idk if everybody read the description of the artwork that shows that and i don't want the story to drag on if i added too much detail about what hyde and Elizabeth were talking about

.i want the conversation to match the time period (the 1890s) like the language and how they interact without making it too modern but not too complicated to read

.i want to make sure i convey hyde being curious about the idea of the relationship working but i want the text to be something well good, you know



so please help me on this because i want this to be the best love story i could do especially making the female character more than just a love interest but without having unnecessary exposition or anything that is unnecessary


also, i want hyde and Elizabeth to see each other, but how many times can it be to visit each other every night so they can hang out or every other day?