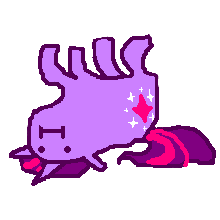 The Smiling Pony

( ͠° ͟ʖ ͡° )
-> Automatic copying of tags when merging duplicates.
I used to always do this manually when I was a mod. Apparently I was the only one that cared, going by looking at mergers now.  
@Dr Outback
barbeque has the template I used. He can adapt it to his new pedantic Linux font and ask me for the vectors I used for the old ones if he wants to reconvert. It'd look pretty bad if spoiler images didn't follow the same template.