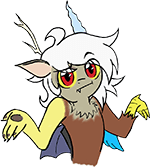 Posts: 3
Dissonance
For the glory of Eris!
Basically title.
Per
solo
:
Detailed description:
This tag is to be used when there is only one character shown in the image.
A few images, eg:
>>1674618
>>882054
>>653769
…..use
solo
against proper guidelines. 882054 in particular was tagged by a mod as such, but a mass tag cleanup* requires moderator permission.
*I'm not sure even what scale
solo
is misused, but I'd rather get shut down by mods before putting in a lot of work, rather than after.
Edit:
Also, per Tag Guidelines:
Character tags (e.g. applejack (139625) +) — when the character is in the image
Preemptive defense against some who might say… "
>>1674618
only has one character in it, so solo works!"
If that is the case, then it is incorrectly tagged per Character Tag Guidelines.