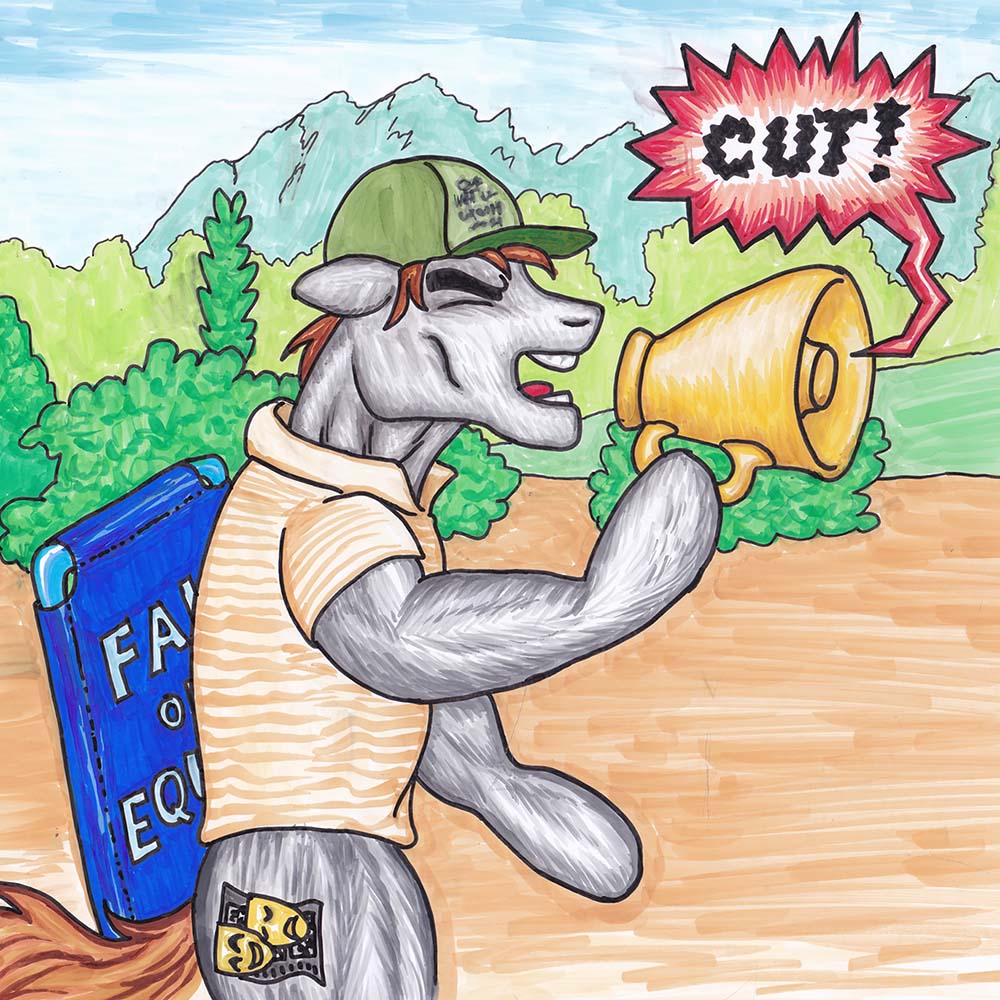 Posts: 4
PestFromPast
That's a short story I whipped up to experiment about writing a fanfic at certain board. It ended right before I got to expand it with larger context with Equestria armaments, politic, mane6 and Anon. Maybe that was for the better :P

#################################################################

….Guards collapsed to the ground, too weary to move. DG-forces rushed to grab them all. Tying them swiftly, all four legs together with the sturdy ropes. The wings of the pegasi were likewise bound against their bodies and the few unicorn had conical cup fitted over their horns. all got briddles wrapped over their heads and bits secured into their mouths. After that, they were helpless. Even after their strength returned.

L'lysa struggled, being too stubborn to give up. That intensified as the captain of the guard was tied to the low platform for all to see. She struggled as much as L'lysa, but had no chance as her front hooves were re-bound together without backhooves. Then securely onto the platform, folded under her without a way to stand up. Her briddles were tied to the platform as well. Both her backlegs were spread and tied to the platform. The leader of DG walked to the captain. Whip in hand. Giving a short speech: "You are no longer guards of the Equestria. Neither a prisoners of war, because we don't count your "country" as a proper participate of the war, less as an nation. From this day on you are property of the Diamond Empire. And property only, to use and process as we see fitting. A few of you may still count on escaping, fighting back perhaps, but we will find a way to assure you how weak you really are. Capable only to serve. As your captain soon demonstrates".

He touched gently captain's sticking flank. Then landed a blow of whip onto it. She jerked and gasped, trying then keep herself silent. Not to show any kind of weakness. If it was a whipping she was getting, she could take it and show everyone not to give in to the despair. She was way stronger than those dogs might even realise. After a few strike she felt herself even more determined. But then it changed.

Suddenly, instead of whip, a dog's hand landed onto her flank. While it didn't hurt as much, it felt more sensual. More humiliating. The captain struggled again, having her flank slowly spanked, rubbed and feeled, then spanked again. "No respectfull prisonment for you": dog shouted. Another dog lifted her tail.
Everyone heard her muffled, angry growl, as she was rubbed and kneaded more humiliating between the spanking. Fingers of the dog digging between her legs. Feeling her pucker and folds, which she clamped shut as tightly she could, traveling lower, cupping her teats on her crotch. Fingers played with each nipple at a time, another spank, continued feeling her teats while spanking hand rubbed her flank.

She fought the feels and emotions it caused in her, then felt his hot breath on her spread and exposed ass. Her determination was quickly turning into desperation, as she felt dog's muzzle between her legs. Dog holding her tail started to rub her flank as well. Yet another dog lowered down at her head, starting to pet her, rubbing her head and ears. She struggled again. Now afraid of what the dogs were going to do to her..
She squaled, as wet tongue lapped her crack, and squirmed as it kept teasing her. Dog massaged her teats with both hands and licked her spread crotch, again and again. Dog at her head massaged gently her ears and licked and kissed her face. The one keeping her tail up with left hand, used his right to massage her flanks, occasionally rubbing under the tail, teasing her clamped pucker.

L'lysa scuirmed as well. Angered of what was being done to her captain. One of the dogs had came to keep her down, and used his other hand to rub under her tail as well. Seeing what was done to the captain, feeling fingers at her own sensitive places enraged and humiliated her further. She saw the captain having now rather pitifull expression, cheeks red and tears flowing down them. Her ass jerked occasionally, dog's muzzle pressed tightly between her legs. Unable to anyhow escape the handling, she occasionally gave a muffled whine, her legs going stiff, muscles flexing. L'lysa could see small droplets dropping to the ground between her legs. Captain gave a bigger whine, eyes losing focus. More moisture dropped to the ground. The dog rubbing her head cooed softly: "That's it. Learn your place. Let the pleasure teach you your new purpose". She scuirmed at hearing this. Clearly trying to resist the forced pleasure. But that was rapidly failing, as more moisture leaked. Dropping between her legs and trailing down at them. Her eyes were now unfocused and half-closed, her crotch bucking slowly against the muzzle. Still struggling or just at the mercy of pleasure was uncertain. L'lysa hated seeing her captain so helpless, but couldn't help her own wetness leaking onto the hand teasing her own crack. This didn't escape from the dog holding her "Liking so much of what you see"? She blushed furiously and scuirmed again. For no avail.

Captain whined again. Using her own moisture, the dog holding her tail had lubricated his finger and pushed the slippery finger past her asshole. Now pumping slowly in and out. Her sex was winking against her will and pushed out her clitoris to be further sucked and licked. For a moment she just lied there, helpless and whining. Taking the humiliation and teasing. Then dog teasing her crotch rised up. Feeling his hard member pressing against her slippery pussy, she turned her head and looked at the dog with pleading eyes. Gag keeping her silent. If she was pleading not to be fucked or to be was hard to tell, as dog took a good hold of her waist and buried his bone into the hot slippery heaven, hard and deep.

Captain let out a muffled shreak, her head stretching forward, eyes closed tight. Dog just grunted and started to grind her. L'lysa growled and kicked as much as her bindings let her, but found slippery fingers at her own holes. Pressing against them. Sliding in… "Better get used to this. Your leader loves to be fucked now, and soon will you." whispered the dog and slowly pumped his fingers in her. L'lysa would want to trash, but she saw captain now just taking the fucking, eyes crossed and half closed. Helpless and whimpering like a beautiful sacrificial offering. She felt herself completely helpless as well and just watched her captain getting fucked. Now the captain was certainly just enjoying the rough sex and groping by several dogs. Her instinct weakness rendered her just as a plaything. Mesmerized by the show L'lysa whined as dog pulled his finger out of her, then bent her, positioning himself. She only gasped, mmphing quietly into the gag, when hot prick found her leaky hole and pushed in. She felt soon as her own instincts took over, and when hard meat slapped in and out, she just quivered bound and gagged, watching captain orgasming. Feeling her own wasn't far. Dog fucking the captain pulled out and stream of dog and marecum flowed down. Another dog took his place and she just accepted this with almost closed eyes and soft satisfied grunts.

L'lhysa couldn't contain her own pleasure anymore. She came. Together hogtied legs trembling.. Whining and her pussy milking the shaft inside her. As the pleasure inside her continued exploding, so did the hot shaft within. Dog just kept her pinned and made sure she took every burst of cum deep inside. Then hold her still for a while, and pulled out. Another dog aproached her, and she thought she should to do something. Dog took hold of her legs and pulled them all up, lining himself crouching next to her mooning ass. Something she definetely should do. When large dong pressed onto her pussy, slipped in, and dog continued the fucking, she realised this was just a proper thing for a pony bitch like her to do. Clancing to the direction of her captain confirmed it. She was there, under the assault of horny dogs. Whining and rocking her hips to the relentless grinding. Crying out her shameless squeals of pleasure. Apparently orgasming again. L'lysa closed her eyes and concentrated to her own pleasure. How the hard meat slided in and out her love canal. Rubbing her sensitive meat all the way. Another dog took hold of her head and licked and kissed her face. She came again, hips grinding and vagina milking the prick to release it's load. Squealing happily as she felt another wet explosion deep inside her. Other hogtied ponies watched this jiggling orgy in boundless horror. They knew the same would happen to them as well. And inevitably would, given enough time.

After all the dogs had satisfied themselves, they didn't have to keep captain and L'lysa bound anymore. But certain measure of safety was still necessary. Having bound only with briddles and bits,leashes hanging from them, both was commanded to lay down their upper bodies, back legs spread and tails tugged to the side. After both had complied, the dogs took large stretchy dongs and greased them, rubbing them to the wet and leaky, winking pony sexes. To other ponies it was horrendous, how these ponies let it done to them. Like they slightly squirmed, but only as in anticipation for more sex. Dongs were however pushed against the rings under their tails. Both ponies surrendered that hole willingly, and dongs were pushed in. Small reins tied the dongs to their docks. Keeping them in even if they didn't want it to stay. Both ponies whinnied, pleased grin around the bit and eyes drooping. Apparently the dongs in their ass gave them enough pleasure to keep them in their submissive stupor.

Both were harnessed to the front of large caged carriage. docile and obedient. Occasionally when some dog checked their harness or rubbed their short fur, one of them would lower her head to sniff near the crotch of a dog. Otherwise they just stood still. Sometimes pussy idly winking.

Rest of the ponies were lifted and carried inside of the cage. Their left legs were separated from the right ones. Otherwice still hogtied, and bodies were positioned so, their heads were at the center floor of the cage, legs next to the low end of the bars. Asscheeks pressed to the bars. Their briddles were bound to the floor of the cage and their legs to the bars. Unable to move at all again. Everyones tail was raised up, and tied to the bar above it. Both sides of the carriage presented colorfull assortment of pony asses. Spread and revealed. "Now that's a show I want to present in the glory of our great victory" – the leader said. "Give them the plug pacifiers too. It isn't enough to break them, but gives them something to think and distract any thoughts of escape." The chorus of ponies protested and squaled when greased dongs pressed against their puckers. Leader of the dogs watched as line of backsides squirmed. Wet squelch with stiffening legs here and there. Soon all of them were stuffed and whimpering. Some of them futily struggling against the bindings. The travel to the fort could now begin.

——————————————————————————————————————————————————————-

When the carriage was pushed toward the fortress, the desperation in Strawhire only deepened. If there were some opportunity to escape, it had been lost long time ago. The pony next to her whimpered in fear, pony after her just breathed deeply, eyes closed. Blushing and whining. Most of the other ponies were more or less under the effect of that damn pacifier. Strawhire couldn't say she was unaffected by it, but she had been able to resist most of it's effect. If given opportunity, she would fight. That much was sure. But most of the guards were clearly unable, at least as a orderly formation.

The gates of the fort opened, and her heart sank as the ugly but sturdy structure swallowed the carriage. She heard shouts and jeering, lots of noises, as it kept rolling. She knew things were just turned from bad to worse. When the carriage stopped, she suddenly realised how much she suddenly missed the time when it was in motion. By the sounds several dog soldiers were rushing to the carriage. Someone touched her hoof, and she squeezed her eyes shut. Waiting for worse. A pony next to her gave a distressed yelp. Somepony near, screamed through the bit..

Then the crowd went silent. The carriage creaked and rocked. Watching up, Strawhire saw the leader of dogs had climbed onto the cage, shouting to the raunchy crew of canines: "Stay put mutts! Only the ones most worthy, get to taste the spoils first! Then those, who fulfilled their duty but nothing more. These pony bitches are property of the Empire, and here I am the one to decide what we do with them.

Few of the dogs growled to these words, but all of them left the carriage in peace. The cage was opened and ropes binding the ponies to the bars were removed. Then all of them were roughly pulled, pushed and heaved out of the cage. Onto the graveled ground. When they were pushed to a line and carriage pulled aside, Strawhire saw a line of cages on the side of the fortress. Some of them had chained ponies in them. Most of those ponies had a desperate faces. Devoid of any hope. Some others had grim stares. Anger and determination.

Strawhire had only short time to ponder the possibility of succesfull revolt, as ponies who had pulled the carriage were led to the line. Heads hunging low in exhaustion and humility. Dogs were discussing something, and after that those two ponies were led to aside. Their reins tied to the logs on the ground. Both had a group of dogs gathering around them. When rough dog hands grabbed their manes, tails, then their legs, both ponies stiffened for a second. Then their hesitation melted into meek submission. Hands rubbed and kneaded their bodies. Petted their heads, massaged tummies and tits, teased between their legs. It didn't take long, until both had their first canine dicks sliding in and out their winking pussies. Lowering their chests to the ground in burning exstasy.

In the meanwhile, the group of dogs examined the ponies still lying in the line. Front and back hooves still tied separately together, they could do very little about it when their bodies were handled. Kneaded here and there. Palpated their tits and cracks under the tails. Observed their reactions to the handling. Most of the ponies were whining in fear. Trying to avoid the hands and rude groping, cover their sensitive bits. Some were seemingly as hesitant. But in closer examination had their cheeks blushing and pussies already moistened. Either from the travel with those dongs in their posture, or the more recent rough handling. The third ones were like Strawhire. Although as helpless as others, they didn't give in to their fear. Neither had any notable signs of arousal. Just went trough the examination glancing the dogs angrily.

——————————————————————————————————————————————————————

After the examination the bindings at legs of the ponies were removed, and they were separated into a three group. Few were led to aside and their reins tied to a long hitching post. Most were pushed into a large cage. And Strawhire with few others to another, slightly sturdier cage. After that, the dogs returned to the ones at the post. The girls at there were more afraid now, getting all the attention of raunchy dogs. Few tried to kick approaching dogs. Some pulling the reins off the pole. Neither of these succeed, and dogs subdued the ponies easily. While they were kept still, some of the dogs took the job of tying the front legs of ponies together. After that, the reins at the pole were pulled and tied tighter, giving no slack, no space to move. the ground had eyebolts between the ponies, and the bolts had ropes attached to them. It didn't take long, until all of the ponies hind legs were trussed in place. After that the struggling of ponies was a minor hindrance. Dogs continued to examine them. Feeling and palpating their bodies. Wrapping the base of the tails and tying them to stay aside. It was now obvious how those ponies, despite their fear and wriggling, were all moistened under their cracks. They knew how bad the situation was. But the strong dominant handling, even if by the enemy brutes, dogs no less, played their deeper instincts against them.

All those ponies tried to resist the boiling emotions telling them to consent and submit to the breeding. But it was getting harder every passing second. Hands of the dogs rubbing them provoked helplessness, intensified by tugging and pushing the dong in their anuses and kneading their stiffing breasts. Even as they whinnied and trembled in their torment, fighting the forced pleasure with all their will, their moist lips spread on its own and winked. Bright pink insides and sensitive button pushing out, juices leaking to the ground between their legs. Everyone of them were yet resisting, at least in their minds. But when they felt dogs crouching down between their legs, they knew it becoming soon too hard. Strong hands grabbed their trembling butlocks, spreading them and their winking vulva even further. The desperate urge and attempt of ponies to kick, subsided into weak shivers in their leg muscles. When muzzles of the dogs pressed onto the spread wetness like a hungry monsters, their legs lost all strength. Front legs cave in, fronts of their bodies falling down onto them. Hindlegs squatted, powerless. If those legs were not bound into place and the postures held with strong hands, they would had completely collapsed. Instead they writhed weakly in the cast-iron grip, butts turning up for better access as their instincts forced them.

As dogs pulled out their wet muzzles and stretched their backs, the ponies could just wait the inevitable. Not that they really cared anymore. After a little shift in position, the crotches rubbed together. Hot pricks found their targets and stretched the wet, winking holes open. Sinking deep with little effort. Girls squealed, lost in pleasure and their own hips grinding in collaboration. Eager in their hazy minds to hasten the sweet climax.

Strawhire watched the degrading orgy from her cage, huffing with her powerless anger. She could hear the maddening wet squelching, gasps and grunts all too well. She wasn't sure anymore what she had expected from the campaign so badly devised in the dog territory, but one thing she knew for sure. She didn't enlist for this. As she paced in the cage, she could hear the muffled screams of climaxing ponies, and felt the sinking feeling in her stomach. Accompanied with that distracting weird discomfort under her tail. She realised the dogs would propably come for more ponies, after and after. Would she fare any better if teased and tortured so? How long it would take, before she were as sex-crazed as them? Throb of her anal muscles around the fake dong made her feel even worse. Almost as if she felt already weird at her pussy. She had to stop covering her ears. Reassuring herself she was going to be ok. She was going to escape untill anything even worse happened to her. She was going to escape. She was going to escape and make those curs pay. Dearly. Somewhere inside she wasn't entirely convinced, but at least she had evaded the panic for now. In this world bad things happened to the ponies like her. And any way to cope with it, even the sweet lies, helped a little.